Save the KIRK – "The Journey Home"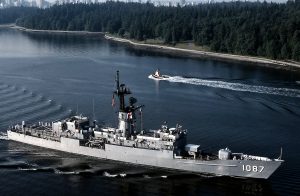 Our beloved ship is currently proudly serving in the Taiwanese Navy.  Her days are limited though.  The KIRK has performed some amazing actions and has quietly made her mark on history.  We want to bring her home and preserve the stories of this honorable ship.
There have been multiple efforts begun to affect this reunification.  I hope to consolidate our efforts and make this happen.  Personally, I've written the Secretary of the Navy in hopes of getting some political backing.  Along with the letter, I sent a copy of the Lucky Few dvd as it tells the stories of operations Frequent Wind and Eagle Pull much more succinctly than I could ever.
We need to get busy in the grassroots effort of raising funds to make this happen.  I want to run a two week blitz seeking ideas for a slogan to Save the Kirk.  Looking to gather ideas until October 15th.  Please leave a comment below of any ideas you have.  Feel free to include image ideas as well as a written slogan.  If you have graphics talent and want to send us a file of something you whipped up, just email anyone of us association officers.  Our emails are president@kirk1087.org, vice-president@kirk1087.org, treasurer@kirk1087.org, or siteadmin@kirk1087.org.  Let's see what you got!
V/R
OS1 North