Shipmates, I have the unfortunate task of informing you of the recent loss of William Cutler.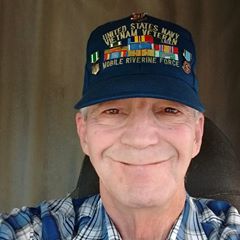 Bill was a plank owner of the Kirk, and served onboard during Frequent Wind and the rescue of 30,000+ Vietnamese refugees.
Bill was an owner operator over-the-road truck driver for the past 40 years, and boasted a 4,000,000 mile accident free record. It's unfortunate that a wrong way driver ended that record, and more importantly his life.
Bill loved the Kirk and the crew, and was constantly working to generate attention and funds to help recover her.
Rest In Peace, Bill. We have the watch.
USS Kirk Story including interview will Bill Cutler. The story starts at 9 minutes and 44 seconds into the show, which is why it shows that time index.
You can also listen to it after 8 on our website – www.landlinenow.com – the link is either the photo or headline in the red box (if you scroll down to the description of the second segment, that's where you can start listening at the beginning of the Kirk story).
I look forward to hearing what you and your crewmates think. And again, thank you for all your help,
Mark Reddig | Program Director
Land Line Now
Office: 816-229-5791 | Ext. 1159
Toll-Free: 800-444-5791
Po Box 1000
1 NW OOIDA Drive Grain Valley, MO 64029